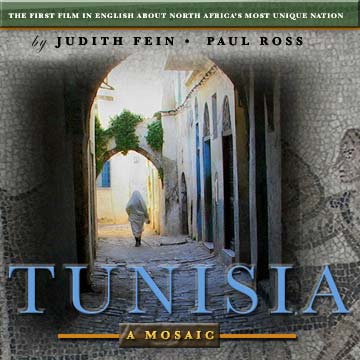 TUNISIA: A MOSAIC sold out for two performances at the Santa Fe Film Festival. CLICK HERE to see what others say about TUNISIA: A MOSAIC 
SPECIAL DISCOUNT: Buy both films, TUNISIA: A MOSAIC and TIMELESS TUNISIA for only $36.00 with shipping and handling included.
PRICE FOR LIBRARIES, SCHOOLS AND INSTITUTIONS WITH PUBLIC PERFORMANCE RIGHTS: $150.00 with shipping and handling included.
PLEASE CONTACT US DIRECTLY ABOUT SALES, ACQUISITIONS, USE OF VIDEO MATERIAL.
TUNISIA: A MOSAIC – SPECIAL PRICE ON THIS WEBSITE: $29.95 plus $3.95 shipping and handling (regular price: $55)
TIMELESS TUNISIA: SPECIAL PRICE ON THIS WEBSITE $5.00 plus $3.95 shipping and handling (regular price: $10.00)
What Critics and Veiwers Say About
TUNISIA: A MOSAIC 
"The informative and often funny movie, which compiles interviews with roughly two dozen Tunisians, succeeds in illuminating a relatively uncelebrated part of the world.
Conversations with a female race-car driver, a cave dweller, an an entrepreneur who describes his country as "the Las Vegas of Europe" convey how Tunisia has sustained its unique identity despite the onslaught of modernity. Nowhere is this more apparent than in the scene in which avowedly chaste, unmarried Muslims in their late 20's sing the theme song from TITANIC, reading the lyrics from a laptop computer."
— THE SANTA FE NEW MEXICAN       
"We start with a filmmaker…..He is rightly chosen as the first of the characters portrayed in this mosaic as he says he makes film 'to avoid stereotyping and maybe to avoid racism.
There are several strong female characters presented, starting with a female motor cross racer…In contrast, we are shown a family who remains living in caves by their own decision. It's family tradition, and the stress of moving to life in the city seems unnecessary. They like their lives simple.
The film also portrays the religious tolerance that prevails in Tunisia…it ends with a segment on the youth of Tunisia who seem to have similar concerns to the youth of our country… By the end of the film, we may feel as if we have a new family, or at least a new dream spot on our travel list."
— FILM DIGEST                 
My true reaction in the opening few minutes of "Tunisia" was shock — shock that it was so classy and funny and multi-media hip, with the Tunisian filmmaker and Groucho Marx in the corner. Also, I never saw anything quite like it in terms of the mix of cartoons, q and a, etc., and I thought it worked that we never saw the filmmakers….. it worked to keep the focus on the people being interviewed.
— Elissa Heyman, author, columnist, media personality
I enjoyed the Tunisia film very much. It was bright and lively and engaging. I really wanted to go there and immerse myself in the country.
It was particularly neat to see how "up and out" women are there; clear, confident, strong and well supported by those around them. And how strong and meaningful family is for them.
— Linda Braun, publisher     
 I completely enjoyed "Tunisia: A Mosaic." It was entertaining and interesting. The people in the film were so diverse. There was such a tenderness about the subjects you chose, even the Woman Racer and the Desert Gambler! I liked the young adults dancing and professing virginity. And the teenage girls at the bowling alley were like teens everywhere.
The mosaic theme worked so well in the film…and so did the transitions and the art. I felt like I wanted to go to Tunisia. The old lady getting her water from the well and then hoisting up her battered old body to walk back to the cave house, I wanted to live in her house.
— Christy Ortega, artist     
Tunisia now has a personality for me after seeing this film. And it appears to be a tantalizing mix of desert and Islamic culture with a strong generational edge of modernism, its own blend of old, new and future. People from all layers of the society — architect, entrepreneurs, traditional cave dwellers, artists, women as car racer and store owner, students, doctors — tell what is on their minds and give us a brief, complex picture of contemporary life between desert and sea.
— Joan Levinson, Filmmaker